Meet Our Team

Chris Korn Sr., Pastor
Chris Korn has pastored Faith Alive Fellowship since December 2001. His endeavor has been to nourish the body of Christ with words of faith and good doctrine (1 Tim. 4:6, Eph. 4:11-15) and to lead and live by example (1Tim. 3:1-7, 2 Tim. 2:15).
Pastor Chris is a 1999 graduate of Rhema Bible Training College. He
and his wife, Irene, have been married for over 37 years. They have four children and ten grandchildren.
Irene Korn, Church Administrator
Irene enjoys serving in the ministry alongside her husband to help those in need of hope and encouragement that can only come through the Word of God. Her passion to share the gospel with children of all ages has led her to serve in various children and youth ministry roles. She continues to actively minister on a monthly basis to nursery-aged children. She also leads a weekly Ladies' Bible Study.
David Cox, Music Minister
David is a lifelong Music-Maker, from starting to compose and play the piano at age 8 in his hometown of Anderson, IN. He was called to the ministry at age 13. David went to college at Oral Roberts University in Tulsa, OK where he received degrees in Sacred (Church) Music and Music Composition. He composed an opera for his Composition degree. David also received a 2-year ministerial degree from Rhema Bible Training Center just outside Tulsa, with an emphasis in the teaching ministry. David has served 10 churches including Faith Alive Fellowship in now 6 different states in 30 years of being a Music Minister/Associate. He is currently working on his
second opera. His vision is to use opera as an evangelistic tool. David loves being in the outdoors, hiking, kayaking, etc., and traveling.
Preston and Autumn Fetterolf, Youth Leaders
Preston and Autumn are passionate about teaching the youth faith through Bible study and practical application. Experiencing the life-changing gospel in their own lives over 15 years ago, they want to help teenagers walk in the victory through knowledge of God's Word. Preston and Autumn have been married over 15 years and have four children, Faith, Landon, Reagan and Lane.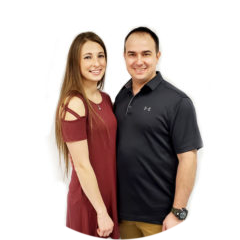 Russel and Stephanie Burkholder, Children's Church Leaders
Russel and Stephanie have been involved in children's ministry for more than 13 years, including the last 8 years as a couple at Faith Alive Fellowship. They have always had a heart for children and participated as teenagers in various Vacation Bible Schools and children's ministries, including in the city of Lancaster, PA.
Russel and Stephanie's vision is to grow the church through our children's ministry. Their goal is to impress upon kids biblical truths and stories at a level they can understand and retain. They also recognize the importance of teaching children how to worship with freedom in spirit and in truth.
Stephanie is an LPN and currently a stay at home mom. Russel owns a local grocery supermarket,
Burkholder's Country Market. They have been married for 10 years and have 3 children, Payson,